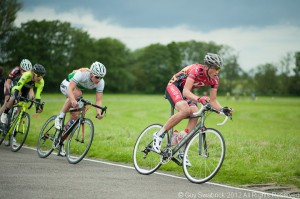 Road Racing is massed-start cycle racing on roads or circuits. First rider over the finish line wins, with anything from twenty to almost 200 competitors, depending on the event.
In the UK, events range from short Youth and Juvenile (under 16) races of 20km or less, through club level events for adults of between 40km and 100km, to Elite-level one day races of 200km or more.
The majority of adult racing takes place on public roads, though there are an increasing number of circuit events, either on roads closed to other traffic or on specially constructed circuits, some which are shared with other sports like motor racing and kart racing, others are purpose built for cycling.
All under-16 racing takes place on traffic-free closed circuits.
Riders from the club participate in events run by the Eastern Road Race League.